CBT Test Training East London From only £99 - Compulsory Basic Training
CBT (Compulsory Basic Training) is the first stage of learning to ride motorcycles. Upon successful completion of your CBT training, your instructor will then issue you with a DL196 form (CBT certificate). This CBT certificate is then valid for 2 years from the date of issue, and entitles you to ride any motorbike or scooter/moped (manual or automatic) up to 125cc (50cc for 16 year olds) providing you are displaying red 'L' Plates. Please remember, CBT does not entitle you to carry pillion passengers or to use motorways.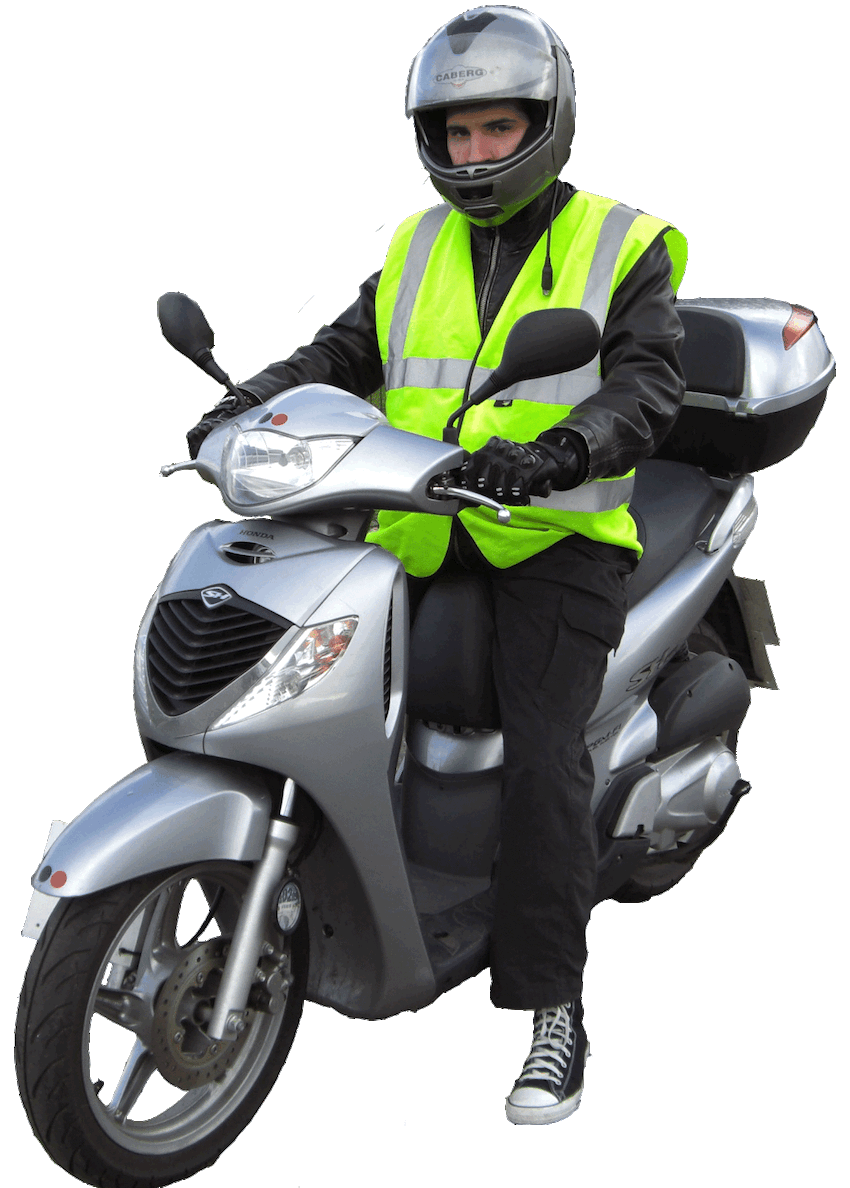 Once you have successfully completed your CBT training, your next step to obtaining your full motorbike licence is to pass your motorcycle theory test, and then decide whether you would like to sit the Direct Access Scheme (DAS) or the A2 Restricted Licence
Our East London CBT training centre is based in Ilford, but is also local to other surrounding areas such as Romford, Barking, Dagenham, Hainault, Barkingside, Loughton and all other area's of Essex. Our East London CBT site is also easily accessible from Central London & other East London areas meaning we can offer CBT Wanstead, CBT training in Walthamstow and CBT Leyton. We are proud to be able to offer one of the cheapest CBT's in London for only £99-00, (on selected first Wednesday's of every month) which includes equipment and bike hire with no hidden charges.
Do not worry if you've never ridden a motorbike before! Your instructor will be in constant communication with you at all times. The purpose of this course is to teach beginners, so just relax and remember, this is 'basic training', and the first stage of learning to ride. However, as much as our instructors will do their best to help you achieve your best, you will need to have the ability to have basic balance and co-ordination.
Although there is no theory required for you to sit your CBT, a basic knowledge of the highway code and UK traffic procedure is required, and your instructor will be asking you questions relating to the highway code as part of your CBT test / assessment. You will also be required to have an element of balance, which is usually obtained by having the ability to be able to ride a bicycle.

What Is Compulsory Basic Training (CBT)?
Compulsory Basic Training (CBT) is for those people who want to ride a scooter / motorbike up to 125cc. Even for those people who want to progress onto the next stage and complete a Direct Access or A2 Restricted Licence, CBT is a must! The CBT test is a continual assessment which is spread over 5 elements:
A. Introduction
B. Practical on-site training
C. Practical on-site riding
D. Practical on-road training
E. Practical on-road riding

Upon successful completion of your CBT course in North London, you will then be entitled to ride any moped, scooter or motorcycle up to 125cc. (Those 16 years of age will be restricted to 50cc until their 17th birthday).
Your CBT certificate is valid for only 2 years, and has some restrictions which will apply to most people:
If you do not pass your motorcycle theory test, and full practical test within 2 years, you will be required to complete another CBT if you wish to continue riding your scooter / moped / motorcycle.
You are not permitted to use motorways at any time
You must display 2 legally sized 'L' plates on your motorcycle / scooter at all times
You cannot carry pillion passengers

Some exceptions to the above restrictions may apply to certain people depending on the existing licence categories on your licence. For more information please seek further advise from the DVLA.
Should you require more information regarding CBT, please visit the DVSA website.

CBT Price List
Promo CBT
£99
1st Wednesday of Every Month


(Offer Currently Suspended Until Further Notice)

8:30am - 5pm
Bike Hire Included
Helmet & Glove Hire Included
Choice of
Manual or Automatic Bike
Weekday CBT
£199
Mon - Fri
8:30am - 5pm
Bike Hire Included
Helmet & Glove Hire Included
Choice of
Manual or Automatic Bike
Weekend CBT
£199
Sat & Sun
7am - 3pm
Bike Hire Included
Helmet & Glove Hire Included
Choice of
Manual or Automatic Bike
n.b Weekend Rates apply for any Bank Holidays

Now it's even easier than ever to book your CBT with our online CBT booking system. You can view our availability, book your CBT online, and then make a secure online payment for your CBT course.

How do I book my CBT?
There are 3 ways that you can book yourself onto a CBT course:
You can book online.
You can book over the phone by calling 020 8597 7333 or 0800 848 8418
You can come into our offices to pay cash. (If you would ike to take this option, please contact our office on 020 8597 7333 or 0800 848 8418 before making your journey, so that we can ensure someone will be present to greet you).

Please note, to book your CBT course you will first need to satisfy some basic requirements. Legally & in the interests of Health & Safety, you must:
Arrive on time for the beginning of your course at the location and meeting time stated (15 minutes before your course start time).

Have a current and up to date full or provisional driving licence which is valid with the correct entitlements, and no bans, restrictions or disqualifications which will legally prevent you from attending your course.

Bring your original UK Provisional or Full UK/EU photocard driving licence. If your photocard licence has expired, then please bring an original, current and valid UK passport as well as your original expired photocard driving licence. Please note that the picture on your driving licence MUST be a true likeness of you, whether it is valid or expired. If you have the old style paper driving licence, an original, current and valid UK passport is also required. If you have an EU licence, then you will need to bring your original & valid EU photocard driving licence with supporting D91 Form.
Have read the Highway Code, and demonstrate a good knowledge of this and all other UK road traffic procedures at all times.
Bring YOUR OWN equipment where possible. This includes helmet, gloves and appropriate riding attire. We can lend you a helmet and gloves, but we accept no liability if you deem our equipment being loaned to you as unsuitable or not fitting. To avoid such issue please bring YOUR OWN equipment.
If you do require to borrow a helmet, and/or gloves, you must accept that you must also wear a face mask and plastic inner gloves to help reduce the spreading of germs/bacteria. We would also encourage you to bring your own hat/balaclava which can be worn underneath a helmet.
If you can, please bring your own pen (for writing), and own ear piece/in-ear earphones which have/or are compatible with a 3.5mm headphone jack. Our instructors can supply this for you to borrow if you do not have your own, but these have to be shared amongst other pupils as well, and can only be cleaned with sanitising wipes, so bringing your own would be a lot more hygienically suitable, and safer, for both yourself and others.
Bring your own sanitising supplies (face mask, hand sanitiser, wipes sprays etc) to help prevent spreading of germs/bacteria.
Wear appropriate clothing that covers all areas of exposed skin (no ripped jeans, shorts or sandals, and you must have, as a minimum, a jacket, thick material full length trousers (such as jean/workwear trousers) & sturdy footwear - trainers with laces are a bare minimum. Slip on shoes/trainers WILL NOT be allowed). Please take weather conditions into consideration when choosing your clothing, especially for cold & wet forecasts. Our instructors decision whether your clothing is appropriate or not is final. Please CLICK HERE for more information regarding clothing which is recommended, as well as clothing/footwear which is specifically not allowed.
Be able to understand and reciprocally communicate in English with our instructors to a conversational level at all times. English translators are strictly prohibited in the interests of health & safety.
Be able to demonstrate balance and control of the motorbike/scooter at all times.
Be able to read a number plate at a distance of 20.5 meters (the use of glasses is allowed). If you wear glasses, whether it's for reading or otherwise, bring them with you on the day of your training.
Be free from the influence of alcohol and/or drugs. Our Instructors decision in this regard is final.
Accept that if you are under 17 years of age, we can only offer you an automatic 50cc (but you will still legally be allowed to ride a manual bike if you so choose).
If using your own scooter / bike for training, it must be of a road worthy condition, to our instructors satisfaction. You must please also bring with you your current CBT certificate, a valid certificate of insurance, MOT (if applicable), and also ensure the vehicle is taxed and displaying two legally sized 'L' Plates. If you are unable to meet this criteria, then please do not choose to do the course on your own vehicle, instead, please select to use one of our training school bikes.
Bring a copy of your booking confirmation (either a print out or electronic copy).
Agree to name, sign & date our liability disclaimer at the beginning of your training course.
Read our terms and conditions. By remitting payment to 1 Stop Instruction, it is deemed that you have read, understood and agreed to our terms and conditions.

Booking a Course if you have an EU Licence
If you have an EU licence, you must obtain a D91 Form from the DVLA.
To get the D91 Form, you will need to complete a D9 Application Form. Once you complete the D9 Application, the DVLA will then send you a D91 Form in the post, and allocate you UK driving licence number.
Once you have the D91 Form and a UK driving licence number, you can then book onto a course with us as well as being able to book any other driving courses/tests/assessments in the UK.
Please note, you will need to bring the D91 Form form with you to your course, so please make sure you do pyhsically have this in your possession before making your booking.
Featured Services
Professional training services offered for all types of licence requirements, including advanced training, and assessments for compliance and auditing purposes