1 Stop Instruction's Blog
Special Delivery Came In This Morning
Published, Mar 18, 2021
We have got 4 new members join our faithful family.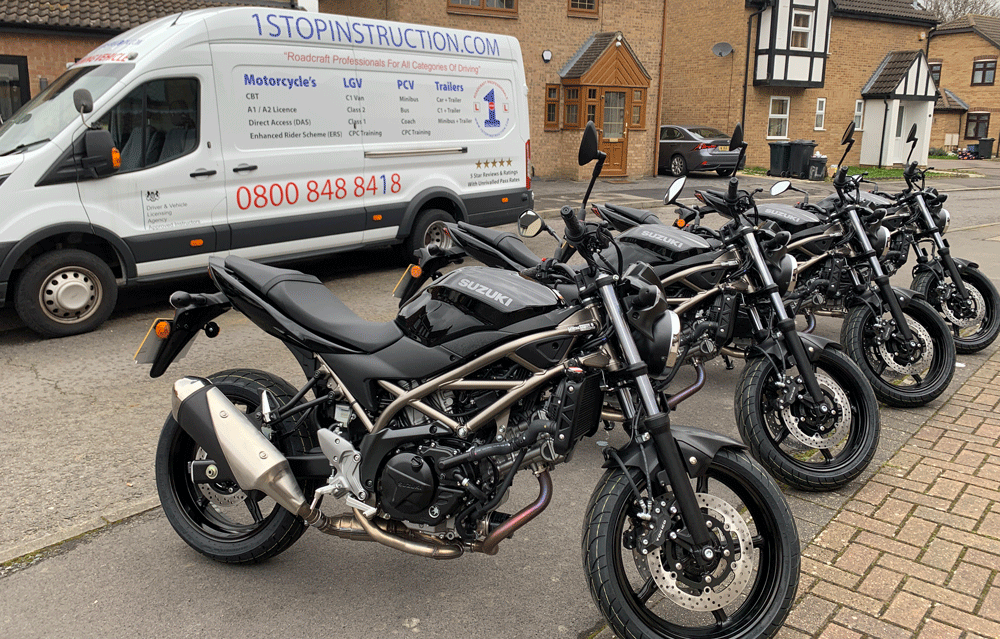 4 Brand new Suzuki SV650's join our fleet ready for work when DAS testing recommences on 12th April.
I wonder which lucky clients will be amongst the first to ride them!!??
DVSA Announce Motorcycle Training can Restart on 29th March 2021
Published, Mar 8, 2021
The DVSA have announced that CBT training will be restarting on Monday 29th March 2021
We can also provide full motorcycle training from this date for Module 1 & Module 2 tests, however, the DVSA will not be allowing anyone to take Module 1 or Module 2 tests until 12th April 2021.
You can read more coronavirus Covid-19 updates here...
What happens if my CBT, Theory Test or Module 1 Certificate expire during Lockdown?
Published, Jan 11, 2021
For the vast most cases, it will unfortunately mean that you will need to wait until Lockdown measures have finished and then retake your respective test before continuing as you were before
There are however a couple of small exceptions for some circumstances.... more
Can you fail a CBT Test?
Published, Dec 5, 2020
CBT is not a test, so the short answer to this question is No. However, CBT is still an assessment, and while there may not necessarily be a "Pass" or "Fail", not every rider is guaranteed to meet the standard required in order to successfully complete the assessment, and gain the certificate awarded at the end of the course.... more
About 1 Stop
1 Stop Instruction are Roadcraft Professionals For All Categories Of Driving...
So whatever you want to ride or drive on the road, we can help you!
Featured Services
Professional training services offered for all types of licence requirements, including advanced training, and assessments for compliance and auditing purposes