Motorcycle Training
In order to learn to ride a scooter/moped or motorbike, you need to be 17 years of age (16 for a moped) and have a valid driving licence with a provisional entitlement for you to ride motorcycles (category A or category AM for mopeds). The licence can be held in one of the following ways:
A standard UK Provisional Driving Licence with motorcycle entitlement. By default, a UK provisional driving licence provides entitlements for both Motorcycles (Category A) & Cars (Category B).
A Full UK car driving licence (Category B), which automatically provides provisional motorcycle entitlement. The Category A entitlement is shown under the provisional entitlements section, which can be viewed on the DVLA's website.
A full EU Driving Licence. For those people with a European driving licence, you will first need to obtain a D91 Form (Formerly known as a counter part driving licence). This is done by by completing a D9 Application Form. Once you have completed the D9 Form, the DVLA will then send you out a D91 Form (which looks like a letter). On the D91 Form you will be granted a UK driving licence number which you can then use to book any driving test/course in the UK.
Your first step to getting yourself on a motorbike or scooter/moped is to attend Compulsory Basic Training (CBT). This is the first stage of learning to ride a which everyone must go through if they want to ride a motorcycle or scooter/moped on the road. The only exception to this applies to car drivers who passed their driving test before 1st February 2001, as their licence will entitle them to ride a moped up to 50cc. However, if such car drivers want to ride any motorcycle or scooter/moped over 50cc, then they must attend CBT.
Once you have completed your CBT training, you will then need to sit and pass your motorcycle theory test. You can book this test online or by calling the DVSA on 0300 200 1122. You can purchase a DVD theory pack from Amazon.co.uk, or any other major book store, which includes all the DVSA questions as well as hazard perception clips for you to practice. (n.b. You could choose to do the motorcycle theory test before your CBT if you prefer - i.e you do not have to have a CBT to do the motorcycle theory test).
The final step to getting your full motorbike licence is to choose which type of licence you would like to obtain. There are now 3 main types of licence, which are the A1 Motorcycle Licence (restricted to 11kw/14.6 bhp), the A2 Motorcycle Licence (restricted to 35kw / 46.6bhp) and the Direct Access Scheme (DAS - Unrestricted Motorcycle Licence). For a full list and description of all of the motorcycle courses we offer, please click here.
If you are still unsure of exactly how to get your full motorcycle licence, please view our flowchart.
Our CBT training and full licence motorbike training courses cover all areas of Essex including Romford, Ilford, Dagenham and Loughton. Our East London CBT training site is also ideally located close to Fairlop tube station (Central Line), making our CBT training and full motorbike training courses easily accessible from all area's of East London & Central London.
Why not view our video feedbacks of pupils who have passed their motorbike training / cbt training in Romford, Ilford & East London?

About the Motorcycle test
The motorbike test is now split into two separate exams; Module 1 and Module 2.
Module 1
Module 1 will is an off road test, and as such will not involve you riding on any public roads. The Module 1 test will consist of the candidate demonstrating set manoeuvres to the examiner which are listed and illustrated below: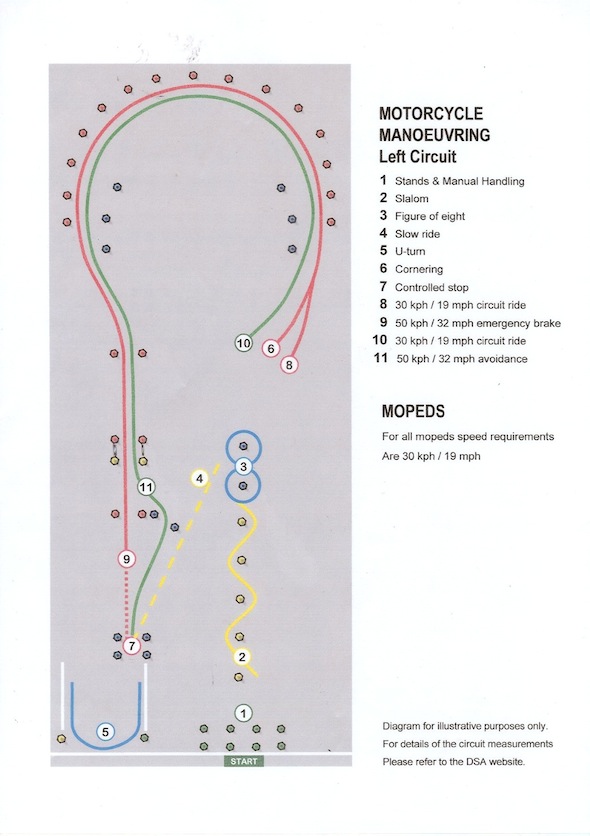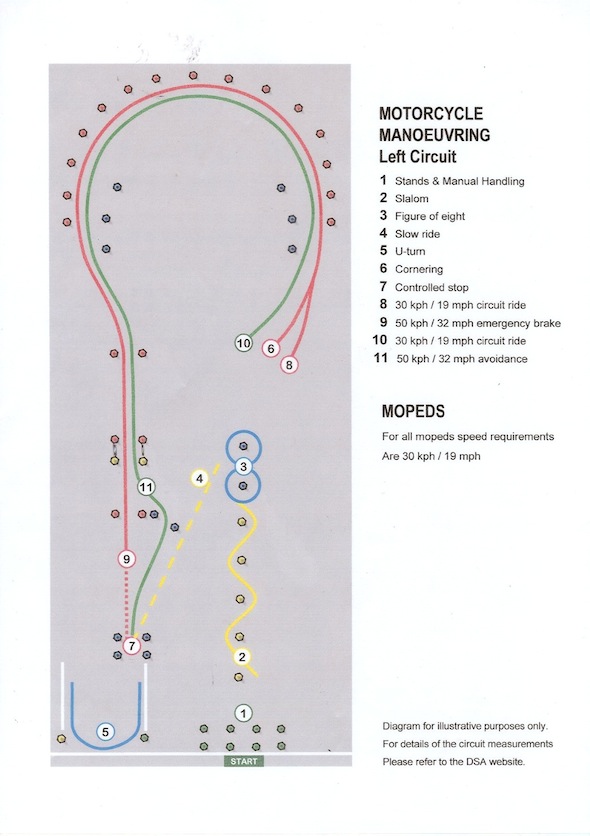 (please click an image to enlarge)

Although there is a left circuit and a right circuit (as shown above), you will only be required to perform one of these, which is at the discretion of the examiner on the day of your test.
The Module 1 test will last approximately 8 - 12 minutes. Upon successful completion, the examiner will issue you with a certificate which will then entitle you to proceed to sit the Module 2 test. This certificate will expire on the same date as your motorcycle theory certificate. If you fail to sit/pass your Module 2 test before this expiry date, then you will be required to re-take your theory and also re-sit the Module 1 test.
Module 2
Module 2 can only be conducted upon successful completion of Module 1.The test will include an eyesight test and at least 30 minutes of on road riding, assessing the rider's ability to safely interact with other road users. No manoeuvres will be conducted as part of the Module 2 test.
As part of your Module 2 test, the examiner will also ask you some safety questions about the motorcycle you are riding (show me, tell me questions), and a question relating to the carrying of pillion passengers. These questions, along with the correct answers can be found by clicking on the relevant icon below.
If you fail your Module 2 test, then you will only need to re-sit the Module 2 test. However, if you do not pass your Module 2 test before the expiry date on your theory certificate and Module 1 certificate, then you will be required to re-take your theory and also re-sit the Module 1 test.



Our Courses
At 1 Stop, we offer you the full range of bike tests available from Compulsory Basic Training (CBT) through to the Direct Access Scheme (DAS). For more details on the course's we offer, please select the relevant option below.

CBT
Compulsory Basic Training (CBT) is for those who want to ride anything from a 50cc to 125cc motorbike or scooter. CBT is not a test or exam, but a continual assessment by your instructor who has to be satisfied that you are safe and competent to ride on the road.

A1 Motorbike Licence (125cc Motorbike licence)
The A1 licence is designed for those people who do not ever want to ride any bike or scooter above 125cc. This licence will allow you to get rid of your L Plates, carry pillion passenger's, ride on motorways and ensure that you never have to sit another CBT again!

A2 Motorcycle Licence (35kw/46.6bhp Motorbike Licence)
The A2 restricted licence is for people who want a full motorcycle licence, but do not see themselves riding a motorcycle over 46bhp (35kw). This is the most powerful motorbike licence available to those under the age of 24. The A2 motorbike Licence allows you carry pillion passenger's, ride on motorways, so is to all intensive purposes a full motorcycle licence, only with a power restriction.

Direct Access Scheme (DAS) - Unrestricted Motorbike LIcence
The Direct Access Scheme (DAS) is for people who want to get their full unrestricted motorcycle licence. This licence is only available to those aged 24 and over, and the test must be passed on a 595cc bike or above with a power output of at least 40kw (53.6 bhp). Once you pass your DAS test, you will be entitled to immediately ride any powered bike of your choice, carry pillions and use motorways.

Progressive Access
For those people who already have held an A1 or A2 motorcycle licence for a minimum of 2 years, you can upgrade your licence to the next category up by simply re-taking your practical test on a larger motorcycle/scooter, with no theory test being required! But don't worry, if you don't pass, your existing licence remains unaffected. Put simply, the progressive access route provides you the potential to gain a more powerful motorcycle licence with no risk of losing your existing motorcycle licence.

Enhanced Rider Scheme (ERS)
Once you have passed your bike test, it is highly recommended that you consider participating in the Enhanced Rider Scheme. The scheme does not involve any test, but is an assessment by the instructor who will teach you a series of advanced techniques to ensure safer riding. Upon successful completion of this course, your instructor will issue you a certificate which will help reduce your insurance premiums as well as having gained a skill for life.

1-2-1 Motorcycle Training

Whether you're a nervous begginer, looking to learn how to ride a manual bike, or just after a refresher, then our 1-2-1 motorcycle lesson will be right up your street. Our 1-2-1 motorbike lessons are also extremely popluar with those people looking to go onto DAS or the A2 test, who have had little or no experience riding bikes bigger than 125cc. After just 2 hours, we are confident that we will have you riding round on a big bike like you've been riding your whole life.

Benefits Of Learning To Ride With 1 Stop
Expert Tuition By Fully Qualified Instructors
All instructors carry their own individual professional indemnity insurance
Extremely Competitive Rates!!!!
Small groups ensuring a fast and safe learning curve
One-To-One tuition Available
Range Of Courses From CBT To DAS
Free equipment provided
Large training site with fantastic facilities

Training Site
Our main training site is situated at Powerleague in Hainault. The site is conveniently located near Fairlop station (central line), making it easily accessible from all areas of London and Essex. We are pleased to be able to offer our pupils the opportunity to train at this ideal location which offers full facilities, large training dimensions and has been approved by the DVSA. How to find us.
We are extremely proud of our extensive training site, which is large enough to allow us to replicate the Module 1 Test circuit. As a pupil of 1 Stop, you are guaranteed to benefit from this facility by practicing the Module 1 Test circuit as many times as you like, within a safe environment, which can ultimately only increase your chances of passing your test first time!
We would like to emphasise the following:
We do not hire our training site. Unlike most other schools, our training site allows us to copy the Module 1 circuit. As other schools do not have this advantage, they are left with no other option than to hire a training site from the DVSA in order for them to be able to provide you with the same level of training. The DVSA can charge for this service, and as such, this cost is almost inevitably passed onto you, the pupil, increasing the price of your course. The only alternative that these schools have to hiring a site from the DVSA, is to not provide you with the proper and adequate training necessary for Module 1.
Our training is guaranteed! Training schools that wish to hire site's from the DVSA, must do so at the DVSA's convenience. This results in a large queue being generated, and schools having to wait their turn to hire out these sites. As such, there is no guarantee that you will be able to get any "on site" training, as the DVSA may allocate a training slot on a day of the week that does not coincide with your training dates. At 1 Stop we do not suffer from this problem, as our training site is solely for the use of our pupils and so we can guarantee that you will be able to practice the Module 1 circuit.
No time limit. If other training schools are fortunate enough to be able to hire a site from the DVSA, then we advise that you make the most of it! This is because the DVSA only hire the sites out for a maximum 30 minutes! This time limit will undoubtably effect the amount of practice attempts you will be able to have at the Module 1 circuit (consider yourself lucky if you manage any more than 2-3, after all, it is a 12 minute test, and there will be other pupils in the group who will need to practice as well) With 1 Stop, you will not experience this kind of rushed inadequate training. As we have our own training site, we will not, and indeed do not have to place a time restriction on your training! This means that you can practice the Module 1 circuit as many times as you like, to help ensure that you are well and truly prepared for that all important test day.
Safety. Our training site is "off road". We will not train our pupils for any elements of Module 1 on the public road, which causes an extreme safety risk to both yourself and other road users. Module 1 also requires you to perform certain manoeuvres which are at best not safe, and at worst, illegal to conduct on the public road. Please think... there is a reason why the DVSA make you perform the Module 1 circuit in an off road environment.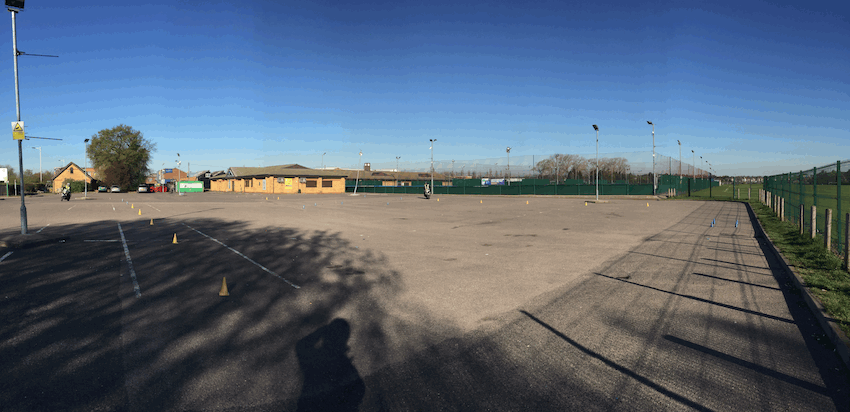 Featured Services
Professional training services offered for all types of licence requirements, including advanced training, and assessments for compliance and auditing purposes